Boner is a superhero and enemy of Sprinkles. He is a parody of Marvel Comics' Ghost Rider. He used to be called That Bike Dude.
Personal Information
Edit
Real Name: Dan Krotch
Also known as: That Bike Dude
Location: resides in Quadropolis.
Current Era Appearances
Edit
Initial Era
Edit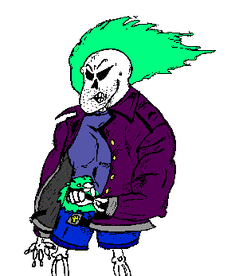 Most of this character's appearances in the
Initial Era
were when he was named
That Bike Dude
, and are detailed on his page.
In The Adventures of Sprinkles the Psychotic Moose Number 13, Boner, along with Weaseline, and led by McSpidey, disguises himself as a pizza delivery man to infiltrate the apartment building that Sprinkles, Jack and Ex-Officer Smith are in.
Digital Era
Edit
In the Digital Era, Boner appears in the background on a framed picture hanging in Dr. N. Sane's office in "Sprinkles the Psychotic Moose" Volume 2, Number 1 (2008).