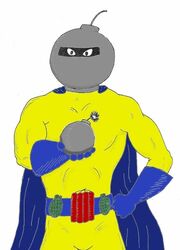 Explo is a villain and self professed master of bombs.
Personal Information
Edit
Real Name: Unknown
Location: Quadropolis
Created: By Michael J. Longo in 1995.
First Appearance: "D.O.P.E. Volume 1" #14 (1995)
Powers, Abilities and Weaknesses
Edit
Is skilled with explosives
Current Era Appearances
Edit
Character Biography
Edit
Explo presumably gets a text from his super-villain support group (which at least consists of
Onibo
,
Brimstone
,
Malice
,
Vibro
and
Grasshopper Girl
) that they should target
Coco
. After being buried in a collapsed building, Coco stumbles out of the rubble. At that moment, Explo tosses a bomb in his direction, and hides around the corner as it explodes in Coco's face. (
Coco the Indestructible Coconut
#1, Feb 2018)
Initial Era
Edit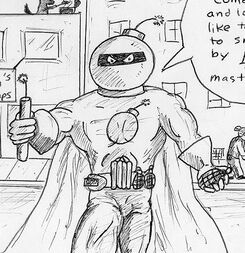 In the
Initial Era
, Explo first appears in
D.O.P.E. Volume 1
, Number 14 (1995). He attacks the
D.O.P.E. building
with a stick of dynamite.
Big Mouth
comes out to fight him, but when he realizes that Explo has live dynamite, he runs back into the building scared. Meanwhile,
Leper
's hands put out the lit stick, and his foot kicks Explo in the face. As
Pinhead
is taking him away, Explo says that they're irritating him and he has a short fuse. After a stunning silence, Pinhead responds, "Boy did that joke bomb!"