Fluff is a giant marshmallowy creature, and pet of Peanut Butter and Jelly.
Initial Era
Edit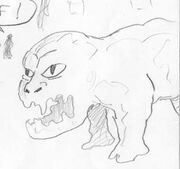 In the
Initial Era
, Fluff first appears in
D.O.P.E. Volume 1
, Number 4 (1992). He is called in by PB & J as they have some
DOPE heroes
trapped in a sandwich. As he's about to eat them,
Numbskull
comes out and gives Fluff a flying headbutt, killing Fluff as his explodes, sending fluff pieces everywhere.